CISCO ACI TROUBLESHOOTING TRAINING
CISCO ACI TROUBLESHOOTING OVERVIEW
This Cisco ACI troubleshooting training course is designed for Network Engineers who need to know how to operate and troubleshoot Data Center Network Infrastructure running Cisco ACI. This course will cover material from an operations perspective, discussing best practices, caveats and common issues. This Course is also known as (DCACIO) Cisco Application Centric Infrastructure Operations and Troubleshooting.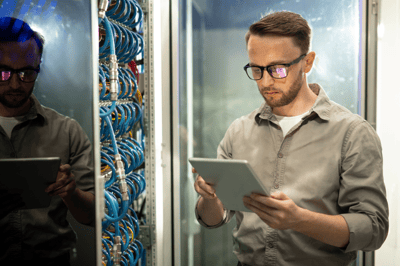 CISCO ACI TROUBLESHOOTING
COURSE DESCRIPTION
Incorporating the latest software, hardware, and techniques, this course dives deep into the wealth of management and troubleshooting capabilities in Cisco ACI. Students will practice on the whole range of operations tools, including configuration management, performance tracking, and troubleshooting. Lots of troubleshooting. During the course, the instructor will inject various faults into the lab fabric, and students will need to apply the lessons of this course to resolve the issues in a live Challenge Lab.

The curriculum is delivered as a Just-In-Time learning, designed to provide company Engineers just what they need to know, just when they need to know it. This is production-focused training, based on battle-tested lessons learned from over 250 production deployments.
PREREQUISITES
Familiarity with Data Center infrastructure operations, familiarity with management of Cisco DC switches, and an understanding of basic network troubleshooting will be necessary before registering for this course.
Plus, completion of one of the following courses:


ACI Field Engineer Essentials

ACI Field Engineer Implementation

Configuring Cisco Nexus 9000 Series Switches in ACI Mode

Or equivalent ACI experience

CISCO ACI TROUBLESHOOTING OBJECTIVES
Operationalize and troubleshoot the ACI Fabric

Avoid common mistakes and recognize common symptoms

Understand APIC and its monitoring, management and troubleshooting capabilities
This course is for Network Engineers and support teams who need to support a Cisco ACI data center network.
Delivery:

Interactive Instructor Led Training
Type:

Lecture + Hands-On Lab, Live Onsite & Online
Module 0: Introduction
Module 1: ACI Overview & Configuration Review
Lab Create baseline 3-tier application
Module 2: ACI Configuration Management
Installing, upgrading, backing up, and restoring ACI fabric
Lab Import/Export
Lab Snapshot/Config Rollback
Module 3: Monitoring ACI
Always-on and on-demand monitoring tools
Exercises Visore, CLI commands, Audit Logs, Traffic Map
Lab Configuring Syslog
Lab Configuring SNMP
Module 4: Troubleshooting ACI
Methodologies, tools and specific examples
Exercises iPing, End Point Tracker, Troubleshooting Tool, Contract Drops, Contracts, Traceroute, Atomic Counters
Lab Troubleshooting Challenge Labs